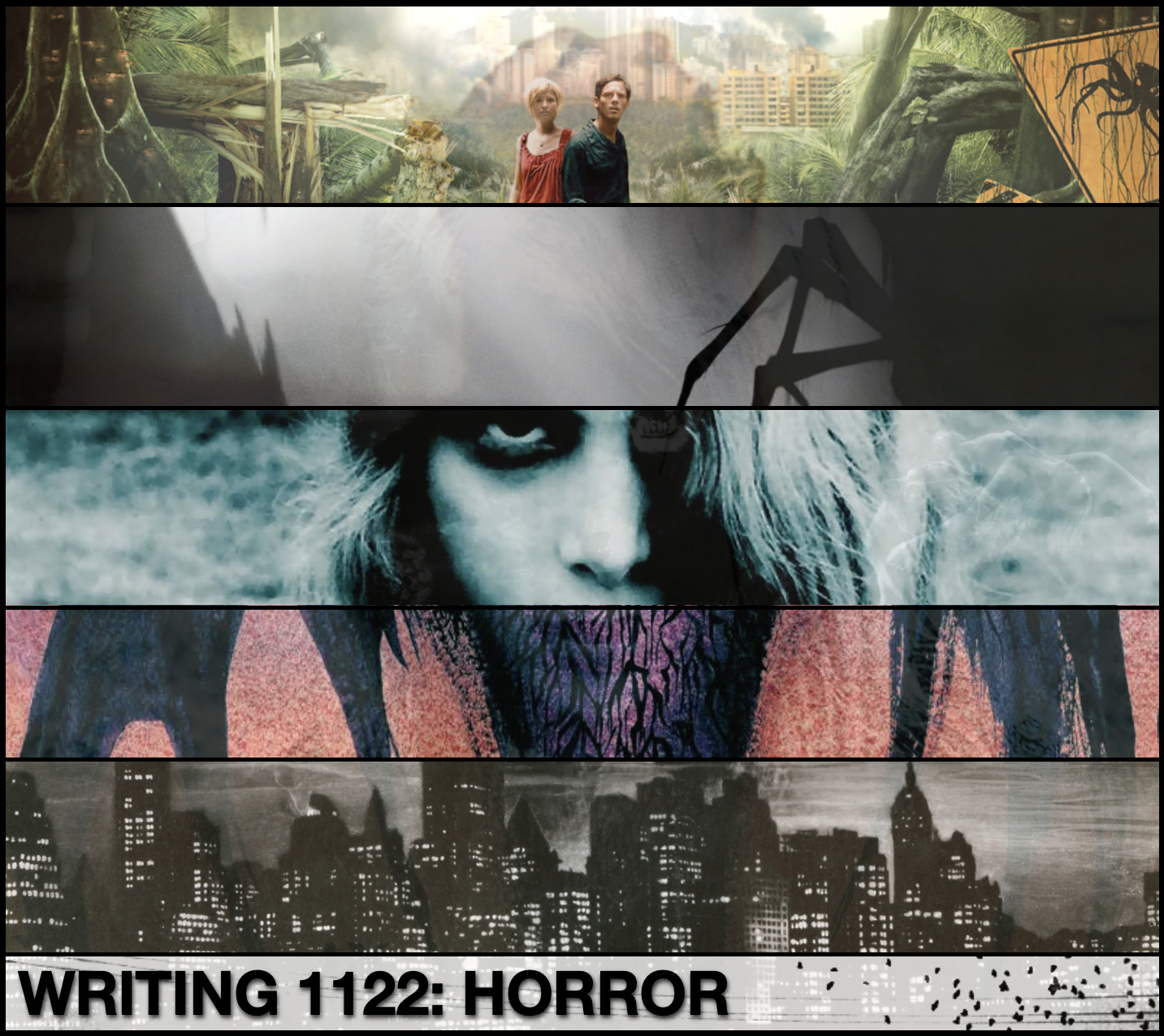 WRIT 1122 | Writing: Horror | jesse.stommel@du.edu
Here's what we'll spend our time doing this semester. The schedule will evolve as we proceed. Watch regularly for more details, added activities, and stuff might change or move around as our conversation does.
Week 1: Jan. 3 - 9
First, read and watch:
Jordan Peele, Get Out (2017) (Amazon Prime)
"Excerpt from Get Out: The Complete Annotated Screenplay" (spoiler alert)
Then, do some stuff:
1) Sign up for our Discord server, using the invite link I added to Canvas and sent by e-mail. Here's a quick getting started guide for Discord, if you haven't used it. Discord will be our "classroom" when we're working online, for both synchronous and asynchronous activities.
2) At the time we'd normally be meeting in person this week, make a short (less than a minute) video introducing yourself to us. This can be super simple (shot on your phone, no editing, etc.). Share your video in the #who-are-we channel in Discord.
Don't tell us your major, unless you have a story about it
Don't tell us what you did over the holiday break, unless it involves giant snakes, parachuting, a unicorn, or it will be documented in a viral video
Don't tell us where you grew up, unless you're going to show pictures
Do tell us what moves you, what you care most about
Do tell us what you hope to get from taking this course, but only if you can do so in a limerick
Do tell us where you are
Do give us random facts we can come to know you by
Do click here and answer the first would you rather question that catches your eye
To share a video in Discord, upload to YouTube (or any other site where videos live) and share with a link. Or click the little + to the left of the message box in Discord, select a video file you created, and add a title or hello in the message.
3) Watch some of the videos of your peers, respond, add reaction emojis, etc. There are three sections of this class. When we can hold in-person sessions, you'll come at the time your section is scheduled. However, all three sections will work together in our Discord server.
4) You'll need a space online to share your work for this course. A couple options: (a) Use your own personal site or blog, if you have one; (b) Sign up for a free account on Medium; (c) Prepare to publish anywhere else (Google Drive, WordPress, Tumblr, etc.), as long as you can post regularly and share your work with the class via hyperlinks. Feel free to leave your full name off of your site (or use a psuedonym).
5) Look ahead to the work for next week and get started.
Week 2: Jan. 10 - 16
First, watch:
Leigh Whannell, The Invisible Man (2020)
Film Riot, "5 Shot Types Every Filmmaker Should Know"
Then, do some stuff:
1) Write a short essay (of 500–1500 words) analyzing a single frame from The Invisible Man or Get Out. I recommend pausing on the frame and writing with it on screen. Include a still of the frame in your post. (As an alternative, you could consider a single cut, the juxtaposition of two frames next to one another in the film.)
Consider framing, lighting, camera angle or technique, props, performance, setting, sound, dialogue, symbolism, etc.  Start with basic elements of the frame: what's on the right, what's on the left, what's large in the frame, what's small? Is this a closed frame or an open frame (is the image self-contained, or does it point to a world beyond its edges)? What meaning can you draw from the shot or scene?  Why is it so important to the film?  How do specific elements of the shot/frame support or complicate your answers to these questions?
There is no right way to do this work. The key is to keep looking and keep writing about what you notice. This isn't a formal essay, so you don't need a thesis, but if you might end up with one. You're dumping the LEGO pieces out, sifting through them, and seeing how they fit together, but not necessarily building anything yet.
2) Publish your post wherever you will be doing the work for this course (a blog, Medium, Google Drive, somewhere else). Tag your post with #writinghorror. Share a link to your work in the #our-work channel on discord. Make sure your work is viewable by anyone with the link.
3) Find posts by a few of your peers and add comments. Respond to comments.
4) During our regular class meeting times, I'll be available to chat synchronously with anyone who has thoughts about the films or questions about this week's assignment. Find me in the #general-chat channel on Discord.
Week 3: Jan. 17 - 23
First, read:
Scott McCloud, Understanding Comics: Chapter 3
Noel Carroll, "The Nature of Horror"
There are no additional films to watch this week, but we'll be continuing to discuss Invisible Man and Get Out, if you haven't had a chance to watch both yet.
Then, do some stuff:
We'll be meeting at our regularly scheduled times this week.
WRIT 1122 Sec. 10 on Tuesday, Jan. 18 at Noon (Sturm Hall 410)
WRIT 1122 Sec. 13 on Tuesday, Jan. 18 at 2pm (Sturm Hall 379)
WRIT 1122 Sec. 66 on Thursday, Jan. 20 at 2pm (Sturm Hall 410)
We'll chat about a few things, Invisible Man and Get Out, horror film more broadly, writing and genre.
A few things to remind you of from our syllabus. This is from the "What We'll Do and How We'll Do it" section: "Not all of us are encountering this moment in the same ways, so each of us will have to make decisions about how we can engage." And then: "Given the current circumstances, our face-to-face sessions are optional. I trust you to make decisions about what feels safe for you, and we all want you to do what you can to keep others safe."
If you aren't able to make it to class (this week or any week), I'll add an optional activity here that you can complete asynchronously online. And we'll also backchannel via Discord during class if you ever want to pop in and see what we're up to in real time.
Week 4: Jan. 24 - 30
TBA
Week 5: Jan. 31 - Feb. 6
TBA
Week 6: Feb. 7 - 13
TBA
Week 7: Feb. 14 - 20
TBA
Week 8: Feb. 21 - 27
TBA
Week 9: Feb. 28 - Mar. 6
TBA
Week 10: Mar. 7 - 13
TBA
Week 11: Mar. 14 - 18
TBA